When each program residency is in session, students have the option to stay on campus. This encourages cohesiveness and a sense of community, both of which are central to the learning experience. 
Housing
Vermont College of Fine Arts offers classic New England dormitory housing for overnight accommodations. Most dorm rooms consist of two beds per unit, with desks, lamps and closets. Single rooms are available upon request. Each floor offers a lounge area and community showers and bathrooms, and each building houses a kitchenette. Coin-operated laundry facilities are available in-house.
---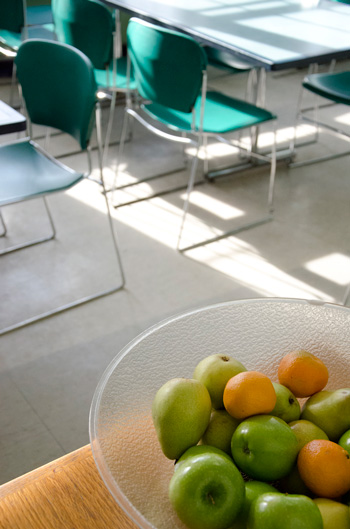 Dining
VCFA Dewey Café
Enjoy farm-to-table fare created by New England Culinary Institute (NECI) students, in a classic college dining hall experience, at VCFA's Dewey Café. 
One of the test kitchens for NECI, the VCFA Dewey Café is the place to gather on campus – with faculty and with peers. Whether you need a hearty lunch and reviving cup of coffee after an intense morning lecture or crit, or you want to pause and chat over dinner, you'll find seasonally appropriate meals . . . made with true NECI flare. 
Dewey Café chefs can accommodate all dietary needs.
Dining Contact:
Nancy Badger
[email protected]
(802) 828-8850
---
Cafeteria Hours
Breakfast: 7:30 am - 8:30 am
Lunch: 11:15 am - 1:00 pm
Dinner: 5:30 pm- 7:00 pm